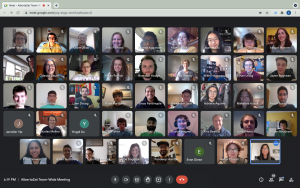 By Kirk Zembal

How do you take 120 student volunteers and do something great like launching a satellite into space? That is the biggest question facing AlbertaSat and it is where Katelyn Ball and Thomas Ganley, AlbertaSat project managers, come in.
"There was a lure of doing something so exciting, that's why I joined AlbertaSat," says Katelyn. "I never, ever expected a student group could build a satellite. That sense of amazement is a huge part of the culture." 
The scale and scope of the project is quite different from other student initiatives; "there's not many groups that take on a challenge like this," according to Thomas. Both Katelyn and Thomas point out that there is a group of students with a competency in spacecraft design which is not taught anywhere at the University of Alberta. "Being able to be one of those people really drove me to this group, there's a sense of awe," says Katelyn.
The fact that it is volunteer driven is a key factor in the success of AlbertaSat. Initiative is important because the group does not pick and choose who is in the group; the group picks itself. To Thomas, the whole drive of the project is personal motivation and the "coolness" factor. "A big part of it is not letting your friends on the team down," as Katelyn describes it. 

Thomas and Katelyn are responsible for ensuring a great volunteer student experience while balancing the needs of a high-stakes, large budget mission. Thomas explained that there is a large grant that is dependent on a group of student volunteers. He says this is "very unique, but puts a lot of pressure on students to deliver." He also mentioned that it can be naturally intimidating as a student to speak to the higher-ups at the university and the Canadian Space Agency, as well as those that have years of experience working in the space industry. A strong group of mentors, both academic advisors but especially previous AlbertaSat project managers, were identified as being invaluable to success. Katelyn and Thomas both said that they rely heavily on each other. It is clear that they make a good team, and they both mentioned it would be impossible to do the job alone. 
Katelyn and Thomas have the responsibility of dealing with stakeholders such as the university and faculty, the Canadian Space Agency, university public relations & fundraising, ISED Canada, NRCan, Aurora College, Yukon University, vendors, and space launch providers. As AlbertaSat performs more successful launches and takes on more projects, this becomes more important. "After Ex-Alta 1, people started giving us a lot of attention—because we built a spacecraft," recalled Katelyn.
Another element of the uniqueness of the AlbertaSat experience is the natural turnover of students within the group as they graduate. Dealing with that is a challenge, especially when it comes to ensuring that there is a good knowledge transfer. Managing that task is mainly a matter of, according to Thomas, "building the relationships between the newer members and the more experience members. The best way to facilitate that knowledge transfer is to have people together—which gets extra challenging in the current circumstances, you kind of have to force those interactions that would happen naturally otherwise." Knowing this turnover is natural in AlbertaSat means that, "a lot of our designs are built with that in mind, with open-source designs and documentation that is designed to be passed down—and that we want to continually improve upon—by future generations of students."
This transfer of knowledge and fostering of relationships plays directly into an aspect of AlbertaSat that Katelyn feels is the most important—the personal relationships. It is important to both Katelyn and Thomas that they focus on the people in the group in order to empower capable students that make good decisions. For Katelyn, this gives her a sense of purpose: "I love everyone on the team; this feels like the right spot for me to help drive the project forward."