What is the Icarus Structure?
The Icarus structure is a specifically designed assembly meant to be used in conjunction with AlbertaSat's 3-unit Cube Satellite, Ex-Alta 2, as it's bus component. As the Icarus structure was designed in house, accommodations for Ex-Alta 2's internal components' unique requirements were able to be made and costs associated with the construction were drastically reduced.
Aluminum 6061 T6 
A commonly used aluminum alloy in the aerospace industry due to its easy extrusion and forming into complex shapes. Commonly referred to as structural aluminum, 6061 offers very good corrosion resistance in addition to high strength and is lightweight, making it very attractive to aerospace applications [https://www.gabrian.com/6061-aluminum-properties/]. 
It will be used to form the ribs, rails, and rods of the Icarus bus
External Dimensions of 100mm x 100mm x 340.5mm (Conforming to the standards laid out by NanoRacks)
Mass of 0.306kg, lightweight due to use of Aluminum 6061 T6 alloy (for weight reduction)
4 rails interfacing with the NanoRacks CubeSat Deployer
4 ribs interfacing with the rods and in turn interfacing with the stack
Solar panels mounted on the body & Nadir board
Printed Circuit Boards (PCBs) mounted on 4 rods
Stack built up from Anti-Ram Rib
7mm (anti-ram) threaded ends on rods to allow for interface with standoffs and anti-ram rib (respectively)
Washers and Spacers separate PCBs on the rod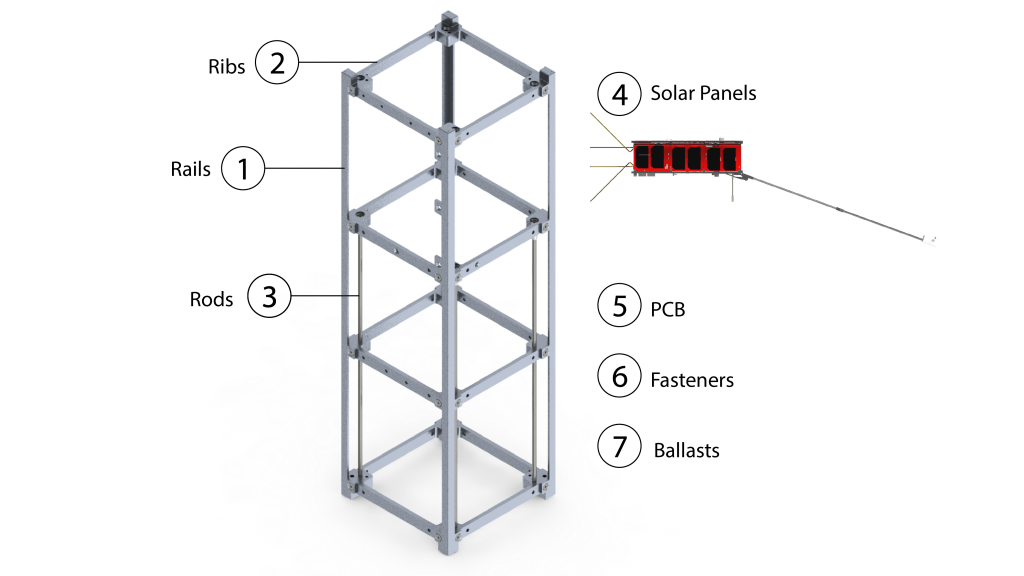 By Tyler Iglesias, Adam Cruse, Dylan Fu and Elan Andison
Edited by Ashik Hredoy
This page was last updated November 2022