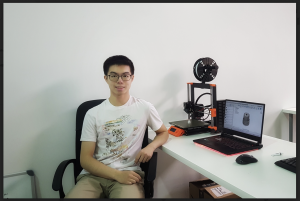 By Joanne Cai and Zack Dorward

Meet Sichun Xu: the deputy lead of AlbertaSat's mechanical team, and a third year engineering student at the University of Alberta. Sichun joined AlbertaSat as a first year after hearing about the club in high school where he was intrigued by their accomplishments and goals. Since then, he has become a vital part of the team, building the Computer Aided Design (CAD) model of the satellite and working on thermal analysis among many other tasks. 
One of Sichun's proudest moments with AlbertaSat was designing the hinges of the UHF antenna from scratch in his second year. His determination to learn and accomplish effective goal-setting has allowed him to quickly become a leader in the club.
Working on the CAD model was a particularly challenging task, as Sichun had to manage thousands of parts on SolidWorks, an already tedious software. With COVID-19, these struggles have only compounded further. However, Sichun notes, the university and Elko Engineering Garage have provided many resources to assist AlbertaSat's work. Additionally, the switch to remote working has offered some benefits: whereas co-op students previously couldn't work on the satellite during work terms, they can now continue to contribute even when they are across the country.
Sichun credits his interest and successes in engineering to the fostering environment that he had in high school. His teacher allowed him to work through a CAD course independently, which gave him a glimpse into what an engineering career would look like. Later on, while still in high school, he joined a university-level hackathon with a friend, which opened his mind to learning computer science.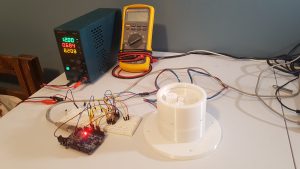 During the lockdown, Sichun began to design and create a robotic arm independently as a personal project. This was something he had hoped to do for a long time, and finally had the skills and time to complete. He found that the software aspect was surprisingly challenging, but working through it and messing around with electronics has helped him in his co-op job and his contributions to AlbertaSat.
When Sichun isn't building robotic arms or working on the mechanical side of the satellite, he likes to sleep in, explore the city, and play video games. Some of his favourite games include Hollow Night and League of Legends.  
If Sichun could give advice to his first-year self, he would emphasize that grades are not the most important thing in the world. Despite doing extremely well in his first year, he realized that there are many valuable experiences that can be gained during this monumental time of growth and opportunity outside of academia. Sichun is considering doing a masters in mechatronics, with the goal of pursuing a career in project management after he finishes his undergraduate degree.