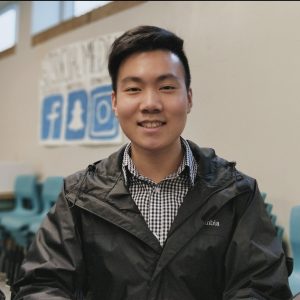 By Kashish Aggarwal and Isaac Chellakudam

Scott Chu is a Computer Science major at the University of Alberta, currently in his third academic year. He has been involved with AlbertaSat through the summer of 2020, working with the Software team while also contributing to Iris teams' efforts. Scott initially heard about AlbertaSat in his first year but was hesitant to join because he was overwhelmed with his engineering course load. However, his keen interest in exploring this organization brought him to accept their summer position. During his time at AlbertaSat, Scott specialized in working with Iris payload software. The payload software allowed communication between the various subsystems. For example, tasks allowing the payloads to receive commands from Earth, sending signals to the onboard computer (OBC), which then sends the signals to the payload, were taken care of by Scott and his team.
Sharing his experience on doing his first job related to his education, he said he experienced imposter syndrome. Surrounded by the bright minds at AlbertaSat, he doubted what he could bring to the table. However, he quickly overcame this feeling by believing in himself. He soon realized that when great minds are working together, everyone wants each other to succeed. So most of a person's barriers are self-created. After this, he quickly changed his mindset to not worry about what other people think and to focus on his work. 
When asked about what advice he would give to new members, he explained that it could be quite intimidating to step out of one's comfort zone, but the community within AlbertaSat is full of individuals who are ever ready to answer any questions. "Do not be afraid to ask questions because no one will judge you. AlbertaSat allows you to expand your knowledge, and it truly is a blessing." he said.
During his summer, one funny incident was during a lunch-and-learn session organized by AlbertaSat when one of Scott's peers, Andre, did a presentation on how we can use lasers to destroy the sun. Scott found that Lunch-and-learns were an excellent opportunity for members to express their interests with their peers while also having a laugh.
When he's not programming, Scott spends his time speedcubing, performing magic tricks and running. Scott's current personal record for solving a Rubik's cube in a competition was 12.63 seconds.
Working with AlbertaSat opened Scott's eyes to a different branch of software and embedded systems. He finds it amazing how the AlbertaSat team is so determined to get a shoe sized box to space. When we asked Scott what he was looking forward to most post-pandemic, he told us that while working with AlbertaSat in summer 2020, he participated solely through the video calls due to everything being shut down. So now he hopes to stop by the AlbertaSat workroom and meet the entire team in-person someday.