Member spotlight – Robert Taylor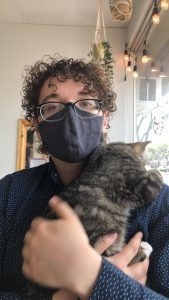 By Khush Harman and Vedant Vyas

Robert Taylor is a 4th year computer science student at MacEwan University who joined AlbertaSat in November of 2020. Robert began his journey, like others, working for the admin team and shortly thereafter moved to the software team. From there, he became the software deputy team lead after a mere three months in AlbertaSat. An interesting turn of events that Robert mentioned about himself is that he originally entered university for an engineering degree in order to work in the space industry, but soon realised that his passion was for computers. Before joining AlbertaSat, he did not care much for programming. He came to like programming after joining AlbertaSat, which he joined to continue working towards a future in the space sector. He is also deeply interested in civilian space programs, which should be more common in the future (and hopefully cheaper).
Robert has worked on some interesting projects including the boot loader, and has focused on software testing and resolving technical issues. He has acquired skills in a variety of programming languages including C, Python and C#. Robert gave emphasis on learning to track changes in code using Git during software development, as crucial data can be kept as a record or reused using this version of control software. In his own words, "learning a language and using it is one thing, but being able to keep track of a whole project built using it is a totally different thing." Even outside of AlbertaSat, Robert has worked on cool projects like building an automated flight system for a spacecraft in Kerbal Space Program using C programming language. This feat expresses his deep-seated interests in programming, systems design, and space flight in general.
Robert mentioned that he met many new people after joining AlbertaSat but that there was not a great deal of interaction due to the COVID-19 pandemic. He was not able to enjoy the full experience such as meeting club members in person, working on projects together in person, and overall spending time with his new found acquaintances, although this did not impact his ability to learn and perform. Robert also mentioned that the toughest part of working semi-post-pandemic was buying the hardware components necessary for the project and getting them shipped and integrated to the project on time.
When asked about the future of space exploration and our planet, Robert hinted that it is better to leave the resources on Earth that are already depleting and look for new sources to get them like asteroid mining, which is ambitious but hopefully will be realistic in the next few decades. In regards to his passion for working in the space industry, Robert is highly optimistic for working with space agencies in the near future and contributing to the development of mankind. He also said that, "I'm not doing it for recognition, but I  just want to build technologies that will be useful. I want to see progress and don't need my name attached to it."
Thank you Robert for all your crucial contributions and best of luck for the coming future!