Member spotlight – Pundeep Hundal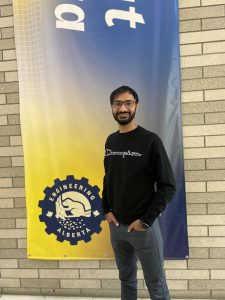 By Nibin Alex and Mustafa Jaswal

Pundeep Hundal, a mechanical engineering co-op student who finished his second year earlier this year, joined AlbertaSat in January 2021. After an AlbertaSat kiosks caught his attention during Week of Welcome in his first year, Pundeep joined the club a year and a half later, overcoming his indecision and his worries of not having enough time due to his heavy engineering course load. 
Pundeep's interest in engineering began at a young age when he started reading random Wikipedia articles and Google searches to learn more about the world and how it works. He especially became interested in anything that moves like planes, cars, and rockets. He would look up at planes in the sky from his house in his youth so often that he memorized the flight schedules of his local airport. At night, he would stare at constellations in the sky, thinking to himself, "Shoot me into space and I'll figure it out". Naturally, his passion for moving machines led him to pursue his interests in mechanical engineering at the U of A.
Enticed by its complexity, Pundeep joined AlbertaSat's ADCS (Attitude Determination and Control System) team, the "steering wheel of the satellite", to study the behavior of satellites in space. As a part of the team, he is updating the satellite properties and is learning the ADCS software that will be used to simulate and verify satellite responses to a variety of inputs to the ADCS unit. Currently, the primary goal of his team is to perform testing and health checks on ADCS components outsourced from CubeSpace, a private aerospace company.
When asked about his favorite part of AlbertaSat, Pundeep responded: "The best part about AlbertaSat is the people. The people are excited and enthusiastic about space exploration, and it has been a valuable experience getting to know them." He enjoys having personal interactions with others and looks forward to meeting his colleagues in person for the first time once the pandemic ends. As for the most important lesson he's learned as an AlbertaSat member, Pundeep emphasized the importance of the "screw it, just do it" mentality. Before his involvement in the club, he would often overthink and be indecisive in his actions, leading to foregone opportunities. After taking his leap of faith to join AlbertaSat in his second year, he realized the importance of persevering through hardships and being persistent in chasing his dreams; qualities which he picked up from his teammates.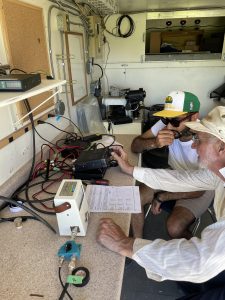 Apart from his responsibilities at AlbertaSat, Pundeep has been using his time during the pandemic to reconnect with his friends and family and pick up new hobbies. Just a few things he's been up to include learning golf, learning Python, reading books, and of course, sleeping. As a self-described history geek, Pundeep uses much of his spare time to learn about the human species, what came before us and which direction we're headed, and especially loves watching videos about historical events on YouTube. When asked about his favorite movie or TV show, he replied: "It's like asking a parent who is your favorite child!" He's a big Marvel fan and also loves space-related movies like Gravity, Interstellar, and The First Man, though his most-watched movie is The Lord of the Rings: Return of the King. Being an avid moviegoer, he looks forward to seeing things return to normal once again to visit one of his favorite places for entertainment: the movie theater.
Regarding his aspirations after graduation, Pundeep's plans all revolve around one central theme: learning opportunities. He's open to any career path which fulfills his love for learning, including industry work or academia, though he would truly be thrilled to have a career in the defense or aerospace sector; ambitions sparked by his time at AlbertaSat.
On his advice for newcomers to AlbertaSat, he says: "Take interest in things. Go out of your way, be keen about things. If you want to do something, do it right. Ask people questions, be more hands-on. Being in AlbertaSat is all about learning. Learn how to learn."