Member Spotlight – Priya Manavalan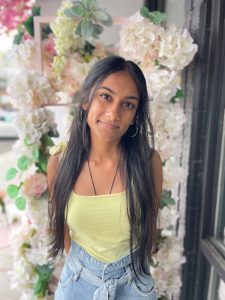 By Harvind Arumugam and Preetham Baddam

Priya Manavalan is currently in her second year of a mechanical engineering degree. In her spare time away from her academic and professional endeavours, she enjoys doing embroidery work, as well as reading books in the nonfiction genre. Priya's early interest in becoming an astronaut in junior high led to her budding interest in the aerospace industry. In addition to this, she enjoyed high school physics and had an interest in pursuing a career in the STEM fields. Thus, Priya chose to pursue a mechanical engineering degree as it was within her field of interest, but also broadened her opportunities post-graduation in the aerospace industry. In terms of her long term goals, Priya expressed her interest in possibly working in a project management position within the aerospace industry. 
Priya heard of AlbertaSat during her time in high school and was soon interested in joining the club due to her prior interest in the aerospace field. Although she was hesitant to join any clubs in her first year of engineering due to the strenuous course load, she decided to join AlbertaSat a little over a year ago. Priya later expressed her regret for not joining AlbertaSat sooner and is very happy with her decision to join AlbertaSat. 
Priya took initiative early and participated in other tasks such as the cleanroom project which enabled her to take on the Balloon mission as a team lead. Priya's responsibilities currently include, but are not limited to, budgeting, general organization, and actively searching for more funding. She was able to successfully find a payload, find a research partner and recruit more members into her mission all within this current semester. Although she has been successful, that was not without challenges popping up. She detailed the challenge of having to determine the scope of the project, as well as assessing methods of testing hardware related to the mission. Furthermore, the challenge of recruiting a developer for the payload was also mentioned. 
Although there have been challenges in the project, and her strenuous course load on top, Priya has been able to effectively manage her time between her academics, AlbertaSat, and other hobbies. She credits this her ability to stay on top of her work, as well as being able to create an appropriate balance between her various activities. She specifically mentions that coursework is often done during the day and AlbertaSat during the evening.
Overall, Priya expressed her love for working in AlbertaSat, as it allows her to gain valuable experience in real-world projects that would not be accessible otherwise. Furthermore, she is grateful for being able to gain various professional skills, especially during her time as a team lead. In addition, she also mentions that AlbertaSat compliments her degree and further gives her insight into the aerospace industry. 
Thank you to Priya for her time and contributions to AlbertaSat, and we wish her all the best in the future.