Member spotlight – Nikhil Velagapudi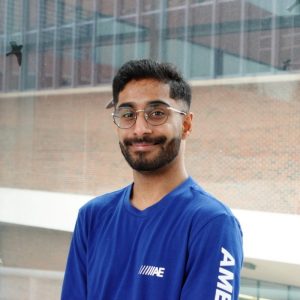 By Ryan Bererton and Katherine Lin

Nikhil Velagapudi is an undergraduate student at the University of Alberta who has just finished his second year in chemical engineering. Nikhil chose engineering as his major because he enjoys coming up with solutions to problems, and then designing and implementing those solutions. More than making cool cars or drawing designs, Nikhil's interest stems from a desire to understand calculations and numbers and how they affect the real world, not just the theoretical side. He entered chemical engineering because it provides an understanding of processes from start to finish. Nikhil chose to see the whole picture and not just to focus on a piece of the picture such as how molecules react. This was part of the reason he chose chemical engineering over mechanical engineering though, GPA was also a factor he took into consideration.
Nikhil joined AlbertaSat in high school after one of his friends in cadets who were going into engineering had a strong interest in space, and suggested it to him. He attended the in-person orientation and enjoyed his time there so thereafter Nikhil joined the team. He was placed into a technical team immediately after joining, Nikhil soon completed his kick-off project during that time, a standard for the club back then. He enjoyed being on that team so much that he has stuck with it ever since!
If you are wondering what team Nikhil joined, we will get to that soon, but first, we should talk about one of his current roles in AlbertaSat as Deputy Project Manager. This role has aspects on both the non-technical side, like the organization of the group and some external affairs, and on the technical side, like talking to Space Canada among other responsibilities. The team that Nikhil was assigned when he first joined was the science and mission design team, which he now leads. This means he is always thinking ahead to the next mission, reaching out to sponsors, helping to operate the satellite while it's in orbit, and thinking about the overall future of AlbertaSat.
While being Deputy Project Manager and a team lead is a lot of work and a large responsibility, Nikhil enjoys what he does so it doesn't feel like a responsibility to him. With all the various extracurriculars that Nikhil has done, he has always ended up in a leadership position. This makes sense as organization, making sure everything fits together nicely, and understanding the process that the club needs to go through comes naturally to him. This requires good time management skills, which Nikhil possesses as he works during the day and then works on AlbertaSat tasks and relaxes during the evenings, which Nikhil, loves to do, so it is not a chore for him.
Nikhil is also currently working on many ongoing tasks that are crucial for AlbertaSat's operations at present but also in the future. On the mission design side, he is working on and coordinating a mission operations guide so that anyone can operate the satellite. This includes procedures for testing any and all commands on the flatsat model before they are sent to the actual satellite in orbit. This task incorporates planning ahead for the mission and thinking of any problems that may arise, as well as coming up with potential solutions. On the project management side of his duties, Nikhil made the current schedule for the club and ended up at the date of October 5 for the delivery of the satellites to the CSA. He is also reaching out to companies in the US and Canada about partnering with AlbertaSat so the club can do something even more extravagant for the next satellite.
In high school, Nikhil was the vice president of the Microgravity Experiment Modules Establishment (MEMEs), another student club working towards improving space exploration. He said that being on the executive side of MEMEs really helped him thoroughly understand his Project Manager role in AlbertaSat, as well as what being a leader entailed. His time as an air cadet developed his leadership skills even further; although he originally joined with the goal of getting his pilot's license, he later realized that he enjoyed the leadership, marksmanship, and aerospace learning aspect of cadets as well. In his free time, Nikhil also likes to make music, play sports, make videos, and design and build random things. As for the more nerdy hobbies, he enjoys coding and playing around with Solidworks, having even programmed his own website!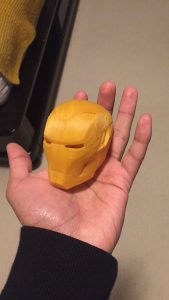 When asked about his favourite aspect of being in AlbertaSat, Nikhil replied that although building something that will go to space is a lot of fun, the best part of AlbertaSat is actually the people. The other members come from a wide variety of backgrounds and there's something to learn from everybody, be it technical knowledge or even personal or academic advice. Nikhil loved how instantly the club became one big family and would have lots much fun together. He also shared how much his experience in AlbertaSat has set him up for success in the future. Having been a shy kid, Nikhil said his roles in the club have made him more confident, not just in terms of engineering and space, but also with regards to how to talk to people and build meaningful connections.
As for his plans after university, Nikhi thinks he will most likely end up in a project management role as that seems to be where he thrives the most. However, Nikhi's long-term target is to start his own company, with the goal of making the medical industry more accessible by using space and using aerospace technologies to support the planet such as finding a way to 3-D print organs in space or using the surface around us to create structures remotely and safely. He says that although his ideas are quite rudimentary at the moment, he's very excited to learn more about it and work out the kinks, hoping to eventually take space technology to the next level.
Even now, Nikhi has a very hands-on approach to all different aspects of his life. Currently, he and his family are overseeing the building of their own house, having gone to different construction companies to get quotes and hire workers. Nowadays, Nikhil goes to the construction site every day to look at architectural drawings, talk to the tradespeople working on the house and see if everything is lining up. He said this experience helped him make connections with many different people and developed his ability to take in all the data and make an informed decision, which is a skill that serves him well in AlbertaSat.
Finally, when asked what advice he has for new AlbertaSat members or anyone who would like to join the club in the future, Nikhil emphasized the importance of being ready to learn. He advised new members to not be scared to approach others, ask questions and learn more about many different aspects of the club. Being involved in AlbertaSat will likely push you out of your comfort zone, but it's an incredible opportunity to learn a lot, make lifelong connections and change the world and explore endless possibilities.