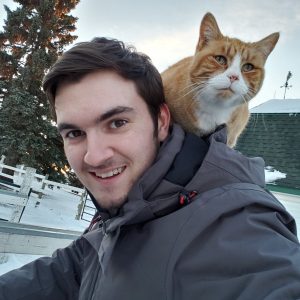 By Katherine Lin and Purva Ajwalia

This young man, at just the age of 20, is on the AlbertsaSat team developing the optical system for a multi-spectral earth-imaging payload planned to fly on-board Ex-Alta 2 in 2022. Liam Droog is a University of Alberta third-year undergraduate student, majoring in physics with a math minor. Although he had planned to pursue a degree in astrophysics, he decided on physics instead, as it is a path with more flexibility. That being said, Liam still has a keen interest in astrophysics, as well as the field of marine biology with a special interest in sharks (of course)! He has a tentative plan to graduate with a degree in physical sciences by the end of the year 2022.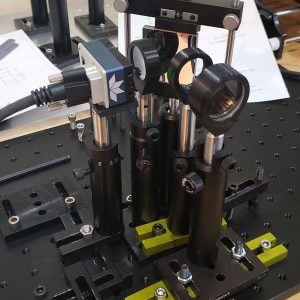 Liam initially became aware of AlbertaSat in his first year of university during Clubs Fair, but he only officially joined at the end of August 2020, after receiving an email from AlbertaSat looking for new members. Without the hassle of joining the admin team first, Liam was allocated a spot directly on the optics team, which is currently developing an imaging payload that will be aboard the Ex-Alta 2. This imaging payload will be used to detect wildfires on Earth. Liam jumped right into the action the moment he joined AlbertaSat, braving the huge learning curve in order to quickly become an invaluable member of his team. When asked for the coolest thing he's done as an AlbertaSat member, he replied that his love for photography made participating in anything involving optics and imaging enjoyable for him, making the optics team the perfect fit for him. In particular, Liam loves physically prototyping the optics in his basement, and asserts that the mere idea of working on an actual satellite sounds "super cool" to say out loud. If possible, Liam has plans to stay on AlbertaSat through to the building of Ex-Alta 3 and to contribute to its creation, degree permitting. If not, he'd love to stay on as an advisor for the club.
Liam's career plans are undecided at this time, but he does wish to work somewhere space-related, such as NASA, CSA, or SpaceX. His other hobbies, apart from joining AlbertaSat, include playing guitar, skiing, and photography. He also joked that he spends so much time doing homework that it should be considered a hobby. In his downtime, he loves watching Youtube videos and sleeping. Liam is also well-trained in the martial art of Taekwondo, advancing well enough to become an assistant Taekwondo teacher. As for his favourite movies, he mentioned box-office staples such as Interstellar, Inception, Avengers: Endgame, the Pirates of the Caribbean series, and the Star Wars series.
When asked about why he decided on a major in physics, Liam replied that he has always been interested in learning how and why the world works the way that it does. His major allows him to explore these ideas, and form new ones of his own. He also talked about his interest in astrophysics; like many kids, he had been enamoured by the idea of space. Although many children do not carry that interest into adulthood, Liam is still very intrigued by astronomy, having been an active volunteer at the U of A observatory. This avid interest in space was part of what inspired him to join AlbertaSat in the first place.
As for the scientists he looks up to the most, Liam mentioned names such as Stephen Hawking, Bill Nye, Albert Einstein, and Sir Isaac Newton. When asked if he would travel to space if given the chance, he replied that he absolutely would, adding that he'd love to go to one of Saturn's moons if that was possible.