Member spotlight – Lauren Dara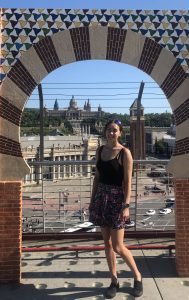 By Divya Prasad and Laroy Milton

Meet Lauren Dara, a second year mechanical engineering student at the University of Alberta. Lauren discovered her passion for engineering at a workshop she attended while in high school. She enrolled in biological sciences for her first year in university but quickly made the decision to switch over to engineering, following in her brother's footsteps. She quotes it as "one of the best decisions of my life."
Lauren discovered AlbertaSat through a mutual friend. She was initially drawn to the engineering aspects of the project, but she also wanted to be a part of a team capable of creating a viable product. 
After her first semester with AlbertaSat, Lauren took on the role of Admin Deputy Lead. Her primary responsibilities are onboarding new members, making and assigning tasks, and overseeing the Admin team with the help of the other amazing team leads. Being a part of AlbertaSat has benefited many, and Lauren is no exception. Her time so far at AlbertaSat has strengthened some essential skills such as organization and communication. With the wide variety of teams and students within AlbertaSat, communication and keeping everything organized are critical ingredients to success.
With the launch of Ex-Alta 2 set for late 2022, the future looks bright for AlbertaSat. Lauren hopes for the possible development of a third satellite in the near future and to get more exposure for the club. She wants more people to know about the organization as she claims that "it's a really cool project to be a part of. While it might seem intimidating, the more you show up to learn, the more you'll get out of AlbertaSat." Lauren's role model within the club is Elizabeth Chao. Elizabeth's tremendous work ethic and excellent leadership skills set a great example of what the future leaders of AlbertaSat should look like. In addition, when asked who her role model is, she also added "can I say Tony Stark is my role model?"
Outside of AlbertaSat, Lauren enjoys playing various instruments such as the guitar, piano, ukulele, and trombone. She also likes enjoying the weather by participating in all sorts of outdoor activities such as skiing, hiking, rock climbing, and camping.