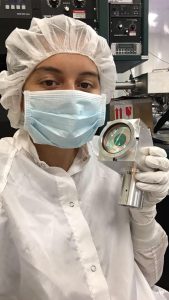 By Sally Palmers and Navodhi Ranatunga

Katelyn Ball is currently taking a masters in physics with a long term interest in working in the space industry. Initially from Surrey, BC, and wanting to try something new, Katelyn decided to attend the University of Alberta for a mechanical engineering degree after briefly considering astrophysics. Part of what motivates Katelyn today is knowing how proud her thirteen-year-old self would be if she knew she followed her dreams and completed something she had always wanted to do. What really stood out during our interview was her high school's unorthodox approach to learning: there were more group discussions and interactivity compared to the typical classroom. This environment played a big role in Katelyn's relationship to learning in relation to daily life.
During her undergrad, Katelyn's favorite co-op was with Dr. Ian Mann, where she had the opportunity to build a prototype of a deployable magnetometer boom to test out its characteristics during parabolic flight. For Katelyn, it was an extremely rewarding experience to conceptualize a design and test it in microgravity. She found out about AlbertaSat through the engineering faculty student group and instantly knew that she had to be a part of it. The team was quite small while they were working on Ex-Alta 1, and after a year of constant pestering by Katelyn, she got in! Her first meeting was in 2015 as an Admin member, after which she jumped between the mechanical and systems technical teams, and has now been the deputy project manager since 2018. Being project manager has definitely enabled Katelyn to fulfil her passion to make the biggest impact possible. Her strong work ethic and drive has played a significant role in attaining this position.
The people that Katelyn has worked with in AlbertaSat are saturated with unique individuals. Since it is a volunteer group, the fact that everyone works multiple hours out of their own life is something that Katelyn admires. School would not have gone as well without the collective motivation and culture of the team, and she is forever grateful for that.
Currently, Katelyn resides with her parents in Surrey, BC, due to the COVID-19 pandemic. Despite the change, it has been a source of comfort and she enjoys being able to spend quality time chatting about topics other than work. Family is something that Katelyn holds close to her heart, and a main concern for her future job is having to move further away without being able to return. 
Katelyn is aware that she always says yes to everything, and also prioritizes work over most other things, often to the detriment of her friends and family. Being near her family helps her frame her problems in a practical manner, and this prevents them from becoming overwhelming. She has realized that it is not the end of the world if something does not go perfectly.
While feeling relatively less productive during the COVID-19 pandemic, Katelyn is still performing in her day to day life, which is dominated by Ex-Alta 2 as well as her studies.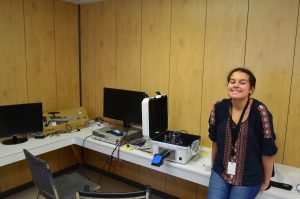 Ex-Alta 2 is very deadline-oriented, and Katelyn is constantly finding herself with things to work on. When she's not working on Ex-Alta 2, she enjoys running, cooking, and watching movies in her free time, but was very adamant on not being much of a sporty person. 
If Katelyn could give advice to her childhood self, she would tell herself to, "cherish your childhood," and that "high school isn't everything. Don't stress yourself out so much about it." 
A personal mantra that Katelyn strives to live by is 'Discipline is Freedom'. If you are disciplined with work and school, then it gives you the ability to have free-time and live guilt free.