Member Spotlight – Joanne Cai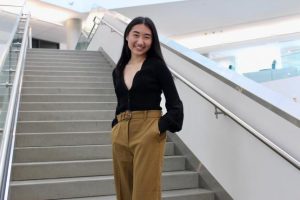 By Ayodeji Olugbuyi and Thao Nguyen

In her 2nd year of mechanical engineering, Joanne Cai is a member of the Systems team and currently working on testing plans, organizing procurement of different parts, and just learning from everyone around her. She joined AlbertaSat one year ago, when she first started university.
Like all new members, she started out on the Admin team, and planned to join a technical team soon after. However, she enjoyed educational outreach and other administrative tasks, so she stayed on the Admin team for ten months.
She also found joining a technical team daunting—during team wide meetings she sometimes had no idea what was going on. She hadn't been exposed to many engineering related skills until she was much older, and felt "behind" everyone else. Luckily, she quickly realized that AlbertaSat isn't about being the most knowledgeable, but being the most willing to learn something outside of your comfort zone or degree. While progress and personal improvement in the club seem to move slowly, her first-year self never would have imagined she could learn so much in just one year.
The idea that there is a group of students working on a real satellite and launching it to space is still insane to Joanne, and it wouldn't be possible without the different experiences of students in the group. There are members of all ages and backgrounds, from all engineering disciplines, and faculties, that each have a pivotal role in Ex-Alta 2. While Joanne is in mechanical engineering, she's been able to work with students in electrical engineering, education, design, and much more. These individuals helped her learn skills outside her degree and apply them to becoming a better engineer.
Another thing she found valuable in AlbertaSat is that the organization of the group is similar to working in the engineering industry. On the systems team, their main goal is to make components integrate smoothly with one another, and to facilitate communication between different subsystems. As a member of the Systems team, Joanne has been able to learn a bit of everything: from coding to soldering to details like design requirements, it's taught her to be an independent learner and volunteer for every opportunity that arises. For instance, she did her first year online so she was unaware of all the training sessions the Elko Engineering Garage offers (to all students, not just those in engineering). Now that she's able to go to in-person lectures and AlbertaSat meetings, she's extremely appreciative of the endless opportunities that universities allow their students.
She also shared that one turning point in her experience with AlbertaSat was when she was on the Admin team and volunteered to do a presentation on SolidWorks for high school students. She had very little experience with SolidWorks at the time, and worried she wouldn't be able to teach students the basics. However, seeing how quickly high school students picked up on it pushed her to overcome the mindset that learning new technical skills was just out of her reach.
Outside of AlbertaSat, Joanne also loves ballet and painting. She works part-time at a local pet store, which has taught her a lot about connecting with people who have different life experiences.
When asked how she could deal with the workload from school and so many different activities, she said that the most important step is to get started, and not fixate on the idea of finishing a task perfectly. Joanne's time at AlbertaSat has taught her that the best way to learn something is simply to do it.