Member Spotlight – Campbell Rea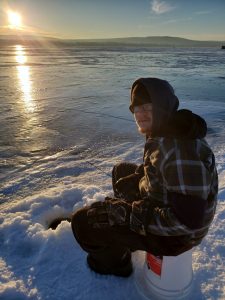 By Emily Seto and Jahnavi Babu

Campbell Rea, Iris team member, is going into his 5th year of engineering physics at the University of Alberta. As part of the Iris team, some of Campbell's responsibilities include developing software for the Iris board. Currently, his focus is on the start-up sequence of the imaging board and deciding which software needs to be run. Engineering physics as a life-path appealed to Campbell since he has enjoyed physics all throughout high school and university. He found that the more complex or weird physics problems as well as working on things that have not been done before interested him greatly, making engineering physics a perfect match.
Campbell joined AlbertaSat in February 2020. He initially joined the club because of what some of his friends in AlbertaSat were experiencing. He had the opportunity to see what they were working on and heard about some of the conferences they went to and decided that he also wanted to experience this for himself. Since joining AlbertaSat, Campbell has developed an appreciation for the work and effort put in to projects in the space industry, unique challenges and all. He has said that meaningful work on a satellite has been the best part of being a part of AlbertaSat, and that he enjoys being a part of a larger project that extends beyond the university.
Aside from AlbertaSat, Campbell is also busy with the Engineering Physics Club where he was elected president earlier this year. He stated that he spends a lot of time talking to those in the same program as him and that he feels this is a great opportunity to get to represent them.  
During this pandemic, Campbell has been able to find ways to pass the time during quarantine. He spent last summer learning how to play the electric guitar and has been going running when the weather allows. Sometimes the busyness of life can catch up with Campbell, stating that "it's easy to get caught up in your problems." After a long day, there are a couple things that he likes to do to relax, such as going for a walk or sitting out on the deck. Campbell understands the importance of taking a step back and not getting caught up in a fast momentum.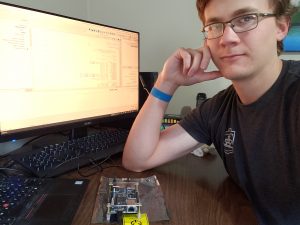 One of Campbell's favourite movies is Sicario. What sets it apart from other movies is that it does not have a generic good and bad guy. Sicario has character storylines that can confuse the viewer as to who is good and who is bad. Campbell stated that this movie tends to mess with your moral compass, making it a very interesting movie to watch. The interpretation is left to the viewer, which to Campbell makes the story more enjoyable. 
If there was an answer to one question Campbell would like to know, it is about how far we as humans can advance with technology and science. Through the rapid development of technology, will there be a "limit to what we can accomplish?" And at what point will things get too complicated to understand? Is there a point in technology and science that cannot be further developed? 
Campbell is still largely unsure of what he wants to do after university. One thought is to find a job in the research and development field of tech; however, he is hesitant to do so as he has heard that research and development jobs are stressful and often do not have a consistent work-life balance. This is a reasonable concern as Campbell wishes that he could have developed a better work-life balance in his first year of university.  
There are many things Campbell is grateful for in life, one of which is "having the opportunity to study in university, which is something that others don't have." He also states that "it's easy to forget the things we are born with." Campbell has had opportunities that others do not necessarily get to have. Being born into a household that provides these opportunities like going to university, clubs, etc., is something that he is grateful for. Some advice that Campbell would like to pass on to incoming club members is to take advantage of the many resources available and to frequently ask questions of the members with experience with the satellite.