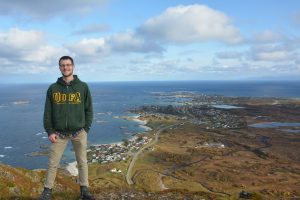 By Colin Trofimenkoff and Patryk Szmuc

Andre Ulliac is currently a fourth-year mechanical engineering co-op student, and has been an active member of AlbertaSat since the summer of 2019. Before entering university, Andre was often inspired by outer space growing up, and found a more specific interest in it in the twelfth grade. This spark of interest would later turn into an intense passion during his time spent at university.
Andre initially heard about AlbertaSat through colleagues during extracurricular activities and decided to join it. At the beginning of his time with AlbertaSat, Andre was placed on the mechanical team. He spent a significant amount of time working in conjunction with the payload design team, developing drawings and thermal modelling. He also completed a thermal analysis course during his time with the team. Being part of the team has been an excellent way for Andre to apply the knowledge he has gained from his undergraduate degree as well as understand the objective of AlbertaSat. He is currently the team lead for the Altitude Determination and Control System (ADCS) team and is a mechanical team member.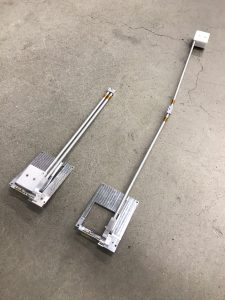 Although he enjoyed being a part of the mechanical team, Andre wanted to further his learning with a co-op placement. He applied for various placements, which resulted in finding research opportunities in AlbertaSat through the Natural Sciences and Engineering Research Council (NSERC) Undergraduate Student Research Award program. The work involved mass moments of inertia, specifically how a digital fluxgate magnetometer (DFGM) boom affects the mass distribution of the satellite and its ability to orient itself. Andre recommended conceptual design changes for the DFGM boom and produced a prototype. This prototype is to be tested on a zero-gravity flight soon and is an exceptional accomplishment for Andre. 
As the team lead of the ADCS team, Andre focuses a majority of his time on solving issues related to the stabilization of the craft as it orbits Earth. This is done through the use of several sensors and two cameras. The cameras search for the earth and the sun to understand the orientation in which the craft lies. In order to maneuver the spacecraft in desired orientations, the ADCS team primarily utilizes two unique techniques: torques from several rotating masses, and a device called a "magnetorquer," which is an electromagnet that pushes and pulls against the earth's magnetic field.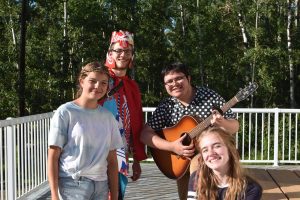 Aside from his brilliant contributions to the AlbertaSat team, Andre is a colourful individual with a deep appreciation for the outdoors and his friends. Before the COVID-19 pandemic, Andre enjoyed volunteering his time as a counselor at Camp Encounter and has expressed a deep gratitude for the opportunity to have been able to do so. Once travel is again possible, Andre is excited to spend more time outside and hopes to road trip to California. Most of all, Andre expressed a desire to spend time with his friends.
When asked about the impact that AlbertaSat has had on him, Andre expressed that AlbertaSat has given him a variety of connections, friends, skills, and opportunities that collectively have fanned the flames of his passions towards the aerospace industry. Being a part of AlbertaSat has also provided him with direction on how to pursue his aspirations. When asked to give advice to anyone who may hope to follow a similar path, Andre advised that you need to pay attention in classes, as you learn a lot of important concepts along the way. He also mentioned that it is extremely important to get involved in teams that interest you, as you can learn so many important skills from these teams, and more importantly, you will make friends who have the same interests. To go further, Andre expressed the importance of being able to connect with individuals that have experience in the fields that interest you.