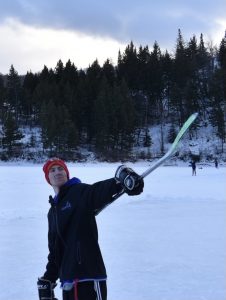 By Shalini Sivajeyan, Priya Grewal and Priya Manavalan

Adam Sundberg is currently pursuing a degree in mechanical engineering co-op at the University of Alberta. After graduating, he hopes to work in the aerospace, aeronautics, or robotics industry. Outside of AlbertaSat, Adam participates in other student design groups on campus and he also enjoys hiking, climbing, and the outdoors.
After hearing about AlbertaSat in his first year of engineering at Lethbridge, Adam joined the club as soon as he transferred to the University of Alberta. He has been a committed member for the past two and a half years, having taken part in various teams within the club. Adam initially started on the Altitude Determination and Control System (ADCS) team and the science team while also taking up admin tasks. He then moved into the mechanical team a year and a half later. 
When asked how his time in AlbertaSat has helped him in his degree, Adam emphasized two key points, the first being his confidence in his abilities, saying that "whenever I'm feeling like I definitely can't do something, I always just [remind] myself that I'm helping to build a satellite [so] I don't really have any excuses." The second significant way Adam has benefited from his experiences at AlbertaSat is the opportunity for real world applications of his degree.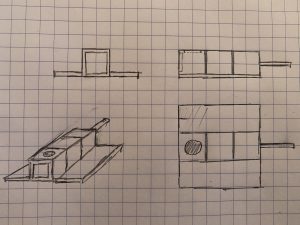 AlbertaSat helped Adam refine his technical skills, but more notably it helped improve his research and report-writing skills. Throughout his first year in the club, Adam was given various research tasks that provided him with opportunities to practice and improve his report-writing skills. 
Currently, along with the ADCS team, Adam is helping verify specs on Ex-Alta 2. He is working on reaction wheels, more specifically where and how to place them, as well as helping with getting the requirements ready for ordering 2U ADCS. For the mechanical team, he is currently involved with ordering parts for the Thermal Vacuum Chamber assembly, as well as the designing of the radiation shield for the custom GPS unit.  
Adam enjoys being part of the ADCS team because of its complexity; he finds motivation in how crucial it is for the team to get everything right. He also enjoys working through the challenging problems. With the ADCS team, Adam's biggest milestone thus far has been the purchase of the ADCS. When he first joined, the team thought they would have the order ready within 6 months, however it went out a year and half later. For Adam, it was incredibly exciting to complete that specific task. Going forward, Adam is looking forward to getting the Ex-Alta 2 satellite, as well as the other Northern Spirit satellites, built and tested. 
His advice to students who may be having doubts about joining AlbertaSat is to not worry so much. In his experience, the group is great at helping people gain confidence and helping people progress.