Alumni Spotlight – Casia McLeod
Being a part of AlbertaSat is an incredible opportunity in itself (how many people can say that they helped build and launch a satellite into space?) but an added bonus is that it can open so many doors to its members who eventually move on. AlbertaSat alumni, Casia McLeod, is a testament to that. After graduating from the University of Alberta with a degree in mechanical engineering in December 2019, Casia joined MacDonald, Dettwiler and Associates Ltd. (MDA), a Canada-based space and technology company. As a mission systems junior engineer, she works with the Canadian Space Agency (CSA) and NASA in order to help fix problems that arise with space technology, specifically the Canadarm2 and Dextre onboard the International Space Station (ISS). Here is the story of how she accomplished this amazing achievement.
Casia was in her second year of her mechanical engineering degree when she had heard about and joined AlbertaSat. She recalled that she discovered it while reading the engineer's handbook provided to engineering students by the University of Alberta. Like many before her, Casia established a foundation in the admin team where she became the leader of the admin team. This was only temporary, for she then joined the mechanical team where she flourished and again became the team lead. This team suited her perfectly since mechanical engineering was her field of study. While in university, Casia looked up to astronauts Jennifer Sidey-Gibbons and Chris Hadfield, wanting to become an astronaut herself. The way her career is headed, I am sure she can achieve it. 
As a member and leader of the mechanical team, Casia took part in the creation of the Icarus structure, which she described as "the mechanical structure that all the boards in the satellite sit within; Icarus is what holds everything together." These roles involved team management, keeping in accordance with other teams and staying up-to-date, making prototypes of the Icarus structure, testing the designs, and doing computer aided design (CAD) models. She also helped support the task of planning the layout of the satellite and inputting it into the CAD models. Casia's capstone project detailed the design of deployable solar panel hinges for the Ex-Alta 2. The capstone was focused on how to get the solar panels to deploy and stay in position once the satellite has reached outer space.
How Casia came to MDA is what she credits to "good timing and luck." During the summer of 2019, right before she graduated in December, Casia had already begun to apply for jobs in the space industry, with MDA being her first choice. The role at MDA entailed a six month co-op internship and a move to Toronto. Attaining this position would have meant she would have to defer her graduation and finish the next year. To no surprise, Casia advanced to the interview stage where she was offered an alternative position. Chance was on her side, as MDA suggested that Casia finish her degree first, and offered her a full-time position at the company after she graduated. Casia eagerly accepted the offer and after graduating, she embarked on a new space-oriented job in the city of Toronto. This is certainly the stuff of movies.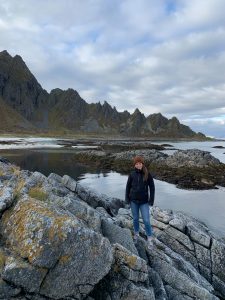 Casia remarked on the relevancy and applicability of her experience at AlbertaSat when she began her career at MDA, observing that how AlbertaSat operates and functions is almost exactly how the space industry conducts itself, drawing parallels such as PDRs and CDRs and other sorts of reviews. Casia also recalled the opportunities and experiences that AlbertaSat provided within the space industry, specifically a trip to the David Florida Laboratory in Ottawa to test the prototype of the satellite. This allowed Casia to become somewhat familiar with how individuals conduct themselves in the space industry, an incredibly useful experience as now Casia is one of these individuals.
As a mission systems junior engineer, Casia's role at MDA involves working in conjunction with the International Space Station (ISS), CSA, and NASA on maintaining the Canadarm2 and Dextre. Casia is a part of the MSS Sustaining Engineering Facility (MSEF) team which entails support operations and availability for anomaly response. When there is an issue with the Canadarm2, mission control in Houston (NASA) calls the Canadian Space Agency in Montreal, who then contacts Casia and the MSEF team in Brampton. An instance of this phone tag occuring is when a hole was detected in the Canadarm2, most likely from space debris colliding with it. Casia and her team were tasked with determining whether this hole was a detriment to the Canadarm2, relying on drawings and previous analysis to determine how to proceed. Luckily, it was not detrimental and the Canadarm2 still functioned properly. Casia is also involved in the Canadarm3 system requirement development for the newest Canadarm design which will be on the Lunar Gateway, orbiting around the moon. What is next for Casia in the space industry is continuing her work and gaining more experience at MDA while also exploring everything the city of Toronto has to offer.
Some words of wisdom that Casia has to offer to everyone in AlbertaSat is that "this is probably a really stressful time, trying to meet deadlines and getting things done to meet the launch date, but I hope [you] can take some time to enjoy working on this project and working with these people because it's a super unique experience that comes once in a lifetime. Be in the present. It can be crazy trying to balance school, AlbertaSat, and always being on the go. Take time to reset and take care of [yourselves]."
We wish you all the best in your future endeavors, Casia! Thank you so much for your contributions to AlbertaSat!